MANAGEMENT TEAM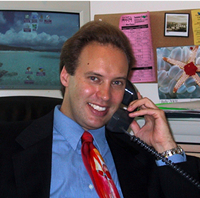 Mike Farley, MBA, CISSP, PMP

, PMI-RMP, ITIL v3
Chairman of the Board & CEO

Mike founded EdgeWorks, Inc. (a Veteran-Owned Small Business--VOSB) in March of 2001. He is responsible for the overall strategic direction and company culture. Business development and marketing are his areas of primary focus. He has an extensive background in crisis management, counter-terrorism, homeland security, hi-tech business case development, research, and product launches, specializing in continuity of operations (COOP)/business strategy formulation and execution.
Previous experience includes supporting the intelligence community in a cross-organizational business development capacity, contracting to DHS in the Information Sharing and Collaboration Office (ISCO)--a precursor to the Office of the Director of National Intelligence (ODNI), and to Office of the CIO (OCIO) as a member of the Infrastructure Transformation Office, and also as a member of a three person team (together with a U.S. Secret Service team lead and retired U.S. Army Green Beret) which established and led the DHS Management COOP/COG program under Tom Ridge; as an Internet product champion at Northrop Grumman for the Department of Treasury, Mike held responsibility for overseeing the development, testing, sales, marketing, implementation, and profit and loss of various product lines. As Internet product manager for Teleglobe, his responsibilities included tactical and strategic planning for broadband and value-added services (DSL, dedicated Internet, dial-up Internet, Web hosting, ASP). Mike also worked for two years at America Online in the legal and operations security departments and for one year at an Internet startup (TrialNet, a profit-generating entity) where he was responsible for Sales & Marketing. He has over 12 years' experience with federal government agencies, having served in various technical and intelligence roles.
He served with distinction in the U.S. Navy in counter-terrorism/security and electrician roles for four years (during Operations Desert Shield and Desert Storm in the First Gulf War) and as an Intelligence officer in the Maryland Army National Guard (1/158 CAV (Recon)) for six years. As a staff officer, his squadron was awarded numerous commendations, designated the Army's most combat ready unit of the reserve components, and proclaimed "Unit of the Year" by Salute magazine.
Mike holds a BS in Business Management from the University of Maryland and a Masters of Business Administration (MBA) with concentrations in finance and international business from George Mason University, international business certificates from Cambridge University (UK), and is Project Management Professional (PMP) certified through the Project Management Institute (PMI). Hobbies include participating in motorcycle adventures and hiking.